Rebellious Girl
Prix du Jury
Festival International du Film de Marrakech 2015
Panorama
Festival du Cinéma méditerranéen de Bruxelles 2015
Sélection Officielle
Festival International du film de Femmes de Salé – Maroc 2016
Sélection Officielle
Festival international Cinéma et Migrations d'Agadir 2016
Sélection Officielle
Cinéfranco
Toronto 2016
| | |
| --- | --- |
| Length | 80' |
| Format | HD |
| Language | Fr |
| Subtitles | En, Ar |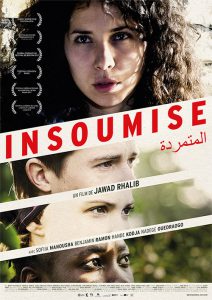 Synopsis

Laila is a fresh IT graduate in Morocco. She leaves the country for a seasonal employment contract in Europe.
She lands in André's Begian farm, specialized in apple cultivation.
But Laila is quickly disillusioned when she finds out the unfair system of seasonal employement contracts. Little by little, her revolt will influence those around her and shake up André's farm.

Bouton Trailer

Trailer
Casting

Sofiia Manousha – Laila
Benjamin Ramon – Thibaut
Hande Kodja – Julie
Nadège Ouedraogo – Fatou
Benoit Van Dorslaer – André
Raphaëlle Bruneau Françoise
Izabela Kaeolczuk – Lucia
Olivier Bonjour – Albert

Jean-Dominique Orsatelli – Bernard
Jean-Michel Vovk – Stéphane
Délégué ministériel – Pierre Dherte
Fatima Harandi – Fatima
Khalid Jamai – Hamid
Malek Akhmiss – inspecteur
Omar Lotfi – Malik
Team

Director Jawad Rhalib
1st Assistant Léo Médard
Script Morgane Aubert
DOP François Schmitt
Chef Electro Marcel Bulterys
Sound ingenior Yves Bémelmans
Art director Amanda Petrella
Accessorist Emilie Debus

Costumes Caroline Gereduz
Make up Leyla Benbrahim
Editing Jeanne Plassier
Sound editing Virginie Messian
Sound mixing Gérard Rousseau
Photographer Marianne Grimont
Postproduction Galaxy
Music Hoba Hoba
Production

produced by Iota Production and K Films
A coproduction Belgo-Marocaine Iota production et K Films, with the help of the Centre du Cinéma de la Fédération Wallonie-Bruxelles et de Voo, du Centre du Cinéma Marocain (CCM), de l'Organisation Internationale de la Francophonie (OIF), Scope Pictures, avec le soutien du Tax Shelter du gouvernement Fédéral de Belgique Via Scope Invest et du programme Média Plus de la Communauté Européenne.
Festivals

22nd International Film Festival of Kerala – 2017
Du 8 au 15 décembre

International Filmmaker Festival Of World Cinema 2017 – Milan
Du 25 novembre au 2 décembre

MICGénero – Muestra Internacional de Ciné con Perspectiva de Género 2017 -Buenos Aires
Du 2 août au 21 septembre 2017

Africlap 2017 – Toulouse 2017
Du 30 août – 3 septembre

Festival Cinéma Africano Asia America Latina 2017 – Milan
Du 20 au 26 Mars

Lire plus
DVD order
Please complete this application form to purchase your DVD.
Once your order received, we will contact you as soon as possible to treat it.