The loving Earth
a film by Manu Bonmariage
| | |
| --- | --- |
| Length | 73' |
| Format | DCP |
| Language | Fr |
| Subtitles | En, Nl |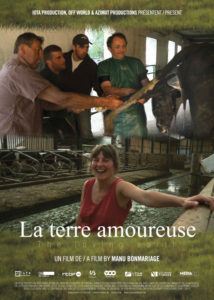 Synopsis

In the Ardennes, the agriculture goes worse than anywhere else. Their are less ans less farms where the husband, the wife and the family work together.But the ground is like a woman when she is in love, she wants to be seeded. But how to live this passion when the woman or the ground goes away?
And how to keep the control of the game when the finance doesn't care?
The paysan's credo is no more what it was?
Would God be no more than a beautiful mirage?
I wanted to live all that with four families of farmers of the Ardennes during one year.

Bouton Trailer

Trailer

Bouton DVD

DVD
Diffusion

Cinema – 31 january 2013 18:00 – CinePatria de Virton
Cinema – 30 january 2013 18:15 – Centre Culturel de La Louvière
Cinema – 8 november 2012 20:00 – Au Ciné Plaza de Hotton
Cinema – 5 november 2012 19:30 – Cinema Galeries à Bruxelles
Cinema – 19 october 2012 20:00 – Au Ciné Versailles à Stavelot
Team

Director Manu Bonmariage
Editor Tom Denoyette
Sound Mixing Nils Fauth
Music Mathieu Thonon
DOP Manu Bonmariage
Sound Manu Bonmariage
Production

Production: Iota Production, Azimut Productions, Off World
Coproduction: Un film produit par Iota Production. En coproduction avec Off Worlds, Azimut Production, RTBF (Television Belge). Avec l'aide du Centre du Cinéma et de l'Audiovisuel de la Fédération Wallonie-Bruxelles et de VOO (TV-NET-TEL), du Flanders Audiovisual Fund. Avec le soutien du programme MEDIA Plus de la Communauté européenne, Carlier bois, Ecloosion. Avec le soutien du Tax Shelter du Gouvernement fédéral de Belgique. © Iota Production, Off Worlds, Azimut produtions, RTBF – 2012
Festivals

Festival international du Film documentaire Millenium, Bruxelles (Belgique) 2013
Le film LA TERRE AMOUREUSE sera diffusé le 1 juin 2013 à 14 au cinéma Vendome.
DVD order
Please complete this application form to purchase your DVD.
Once your order received, we will contact you as soon as possible to treat it.