| | |
| --- | --- |
| Length | 55' |
| Format | Beta Digital, 16/9 |
| Language | Fr |
| Subtitles | En |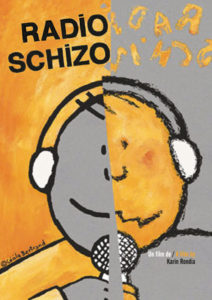 Synopsis

Radio Schizo is the story of a bunch of young people suffering from schizophrenia. They are preparing a radio show to discuss their illness.
As their project develops, they communicate with lucidity and sincerity the difficulty of living with this illness that encumbers, disrupts and muddles the mind and social relations. This is a film that shatters prejudices.

Bouton Trailer

Trailer

Bouton DVD

DVD
Diffusion

Cinema – 9 novembre 2002 09:30 – Cinéma Arenberg – Galeries
TV – 28 octobre 2002 09:40 – La Deux
TV – 26 octobre 2002 13:20 – La Deux
TV – 25 octobre 2002 21:30 – La Deux
Cinema – 18 octobre 2002 20:30 – Centre culturel Jacques Franck à Bruxelles
Team

Director Karin Rondia
Music Valery Louiton
Editor Antoine Marie Meert
Sound Philippe Sellier
Editing Michèle Maquet
Production

Production: Iota Production
Coproduction: RTBF, Wallonie Image Production (W.I.P.), Triangle 7, GSARA, Centre du Cinéma et de l'Audiovisuel de la Communauté française de Belgique.
Festivals

Festival Psy de Lorquin – France
Festival Santé de Liège – Belgium
Rencontres documentaires du Printemps, Limoge – France
DVD order
Please complete this application form to purchase your DVD.
Once your order received, we will contact you as soon as possible to treat it.