Refractory Jospeh
a film by Caroline Glorion
| | |
| --- | --- |
| Length | 90' |
| Format | HD 16/9 |
| Language | Fr |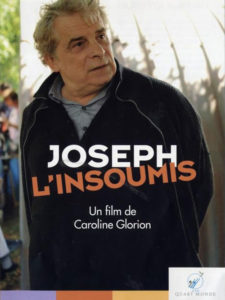 | | |
| --- | --- |
| Synopsis | Early 60's, a sprawling slum on the outskirts of Paris. 350 families survive in shelters in abject poverty and daily violence. One man, Father Joseph, decides to live among those he calls his people. Among these families, that of Jacques, a little man of 13 years, scabby and resourceful. His life will be transformed by his encounter with Father Joseph ... |
| Bouton Trailer | Trailer |
| | |
| --- | --- |
| Diffusion | TV – 17 october 2011 20:35 – France 3 |
Casting

Joseph – Wrésinski Jacques Weber (Fr)
Alicia – Anouk Grinberg (Fr)
Jacques – Nicolas Louis (Be)
Rose – Laurence Côte (Fr)
Suzanne – Salomé Stévenin (Fr)
Le Géant – Patrick Descamps (Be)
Geneviève de Gaulle – Anne Coessens (Be)
Madame Richet – Isabelle de Hertogh (Be)
Team

Director Caroline Glorion (Fr)
Director of photography Pierre Millon (Fr)
Script writer Philippe Dussau (Fr) & Caroline Glorion (Fr)
Music Frédéric Vercheval (Be)
Sound Jérôme Ayasse (Fr)
Set designer Emmanuel de Chauvigny (Fr)
Director's assistant Christophe Marillier (Fr)
Casting Julie Lecoeur (Fr)
Script Véronique Heuchenne (Be)
Editor Jacqueline Mariani (Fr)
Sound mix Mathieu Cox (Be)
Production manager Frédéric Lary (Fr)
Location Manager Sophie Couécou (Fr)
Executive producer François Drouot (Fr)
Production

Production: Iota Production, Les Films de la Croisade
Coproduction: France 3, La Région Aquitaine, CNC, Procirep/Angoa, Caisse de dépôt et consignation, Acsé, la Communauté française de Belgique.
Festivals

13e Festival international de la création télévisuelle de Luchon
Joseph l'insoumis won the grand prize
DVD order
Please complete this application form to purchase your DVD.
Once your order received, we will contact you as soon as possible to treat it.