14-18, the noise and the fury
a film by Jean-François Delassus
| | |
| --- | --- |
| Length | 100' |
| Format | Beta Digital |
| Language | Fr |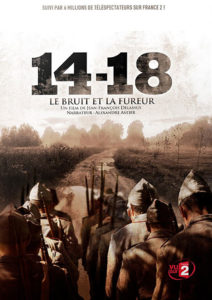 Synopsis

Not everything has been said about "the war to end all warsà, about the story of this immense deception, this infinite waste. Far from it.
Since World War I plunged entire armies into a previously unknown state of pure brutality and unprecedented degree of suffering, it changed the very nature of war. Our aim is to try and explain the inexplicable: how did tens of million of men put up with the incredibly harsh life in the trenches for such a long period of time - four years - season after season, day after day and night after day? How did they accept the prospect of almost certain death or injury when - unlike during WW2 - they did not exactly know why they were fighting?
Through the analysis of Annette Becker, one of the leaders of this new historiographical trend, we want to provide a new vision of the conflict, which scale, violence and very nature both foreshadowed and caused the tragedies of the 20th century.
| | |
| --- | --- |
| Diffusion | TV – 11 novembre 2010 20:50 – France 2 |
Team

Director Jean-françoise Delassus (Fr)
Restauration d'image, colorisation, étalonnage Digital Graphics (Be)
History consultant Annette Becker
Composer Marc Tomasi
Editor Olivier Martin
Sound editing Damien Bouvier, Damien Desandre et Julien Bonvici
Production

Production: Programme 33, Iota production
Coproduction: l'ECPAD, Iota Production, la RTBF, France 2
, CNC, la Procirep-ANGOA, la région Picardie, la région Ile de France, France Télévisions Distribution, Les Gueules Cassées, ministère de la Défense, Planète, la TSR, la VRT, la RTSI et la SRC
Distribution: France Television, Ad vitam, RTBF